After nosediving below the psychological level of $30K on July 20, Bitcoin (BTC) gained momentum and rose to the $32,100 level during intraday trading. 
This momentum was partly triggered by Elon Musk's disclosure during the B-Word virtual event held on July 21 that SpaceX aerospace manufacturer had invested its treasury reserves in BTC and Tesla was likely to begin accepting BTC payment again. 
As a result, Bitcoin's price has risen by $3K from lows of $29K to the current $32K level.
On-chain data provider Dilution-proof acknowledged:
"Bitcoin just had a +$3k intraday move, but the futures markets remain short. This will likely go down as a great setup for a short-squeeze by the bulls, or as an important bear clampdown of a relief rally. Either way, looks like we'll be seeing some volatility over the next week."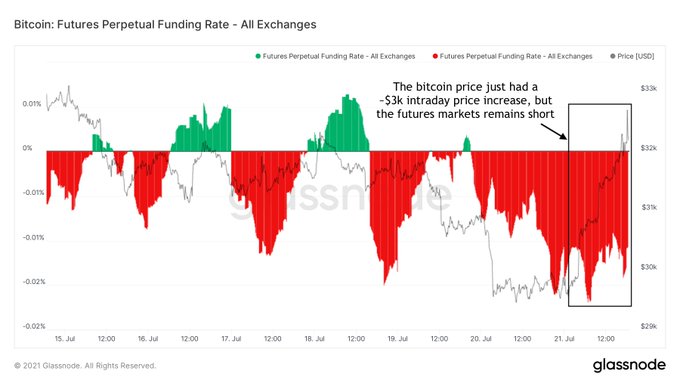 A short-squeeze is an unusual condition that triggers rapidly rising prices in a tradable asset. 
The CIO at Moskovski Capital, Lex Moskovski, echoed these sentiments. He explained:
"Bitcoin is going to burn bears with a nice short squeeze at some point. Their only bastion of hope is the Fed tapering out."
BTC whales have been buying the fear
According to on-chain analyst Will Clemente:
"Whales have been buying the fear. They've now added +96,044 BTC to their holdings in the last 3 weeks."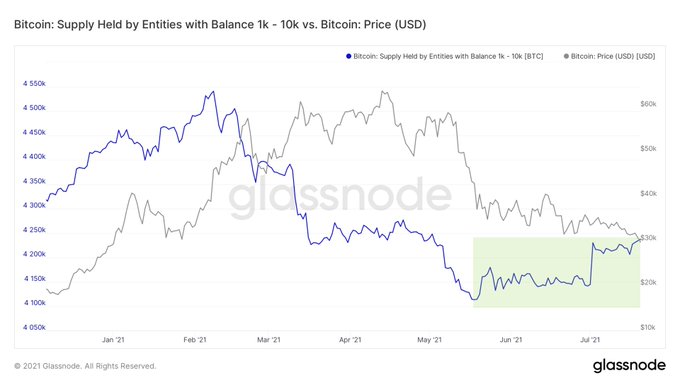 Fear, uncertainty, and doubt (FUD) have engulfed the Bitcoin market ever since the leading cryptocurrency plummeted from an all-time high (ATH) price of $64.8k recorded in mid-April. This has been partly caused by intensified crypto mining crackdown by Chinese authorities and previous Elon Musk comments about Bitcoin's environmental effects. 
Market analyst Michael van de Poppe believes that all is good as long as Bitcoin sustains above $31k. Therefore, time will tell whether the short-squeeze will be triggered in the BTC market. 
Image source: Shutterstock

Kredit: Zdrojový odkaz